A melting pot of traditional and contemporary architecture, Lyon's artistic influence is evident as soon as you step into the city.
Galleries and museums are abundant, making it a beloved haven for creative types. Foodies, however, will know a different side to this gorgeous French city. Famous for being the country's capital of gastronomy, Lyon offers cuisine that is sure to delight everyone's taste buds.
Regardless of whether you're here for the architecture, art, food, or history, you're bound to enjoy every side of this culturally rich destination when you follow our guide to the best things to do in Lyon.
Place des Jacobins

Dominated by a grand marble fountain that dazzles with its elegant design, Place des Jacobins lies close to a multitude of stores and restaurants. Its convenient location makes it perfect as a pit-stop before or after you shop or dine.
The surrounding white stone buildings are equally as beautiful as the gleaming centrepiece, with trees adorning every corner and balconies framing the windows. Place des Jacobins is the perfect place to stop and soak up the atmosphere of Lyons before grabbing a meal at one of the nearby restaurants.
Gaspard André sculpted the white marble fountain in the late 19th century. It celebrates four famous artists from the area – Gérard Audran, Guillaume Coustou, Philibert Delorme, and Hippolyte Flandrin – all of whom used different techniques and materials. It is truly a masterpiece in its own right, especially when contrasted with the sparkling water that surrounds it.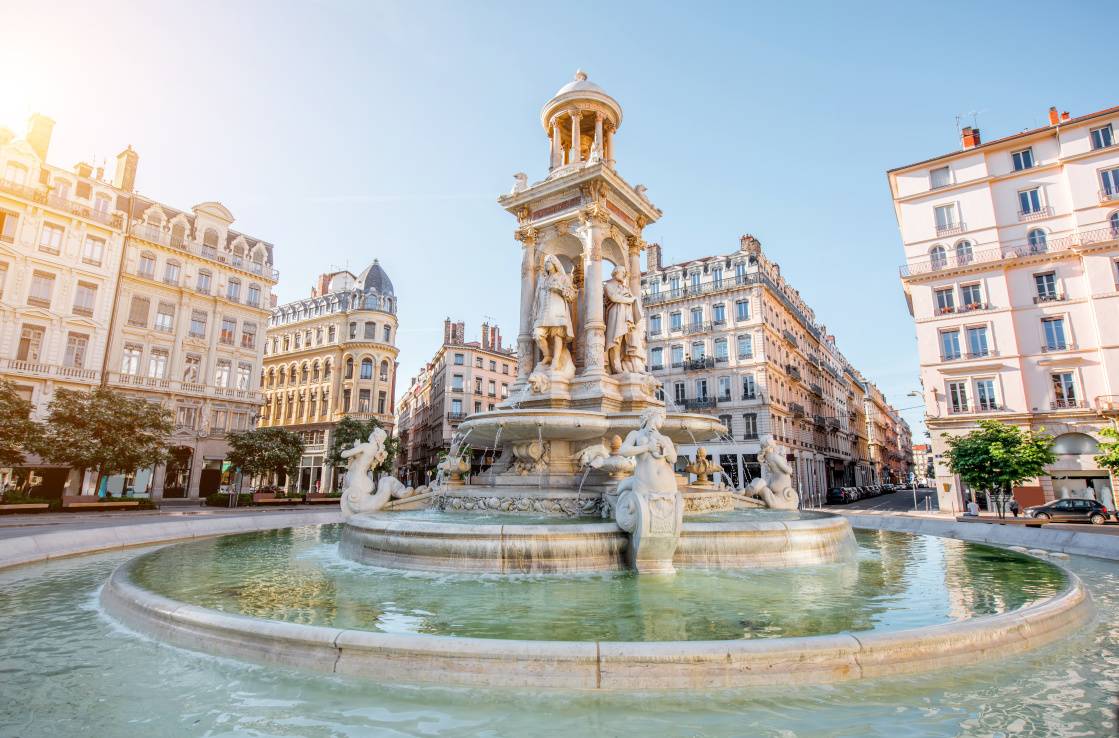 Traboules
Hidden within winding crevices and hidden staircases, Lyon is home to a number of mysterious secret alleys and passageways known as 'traboules'.
Dotted around the city, these fascinating places have ancient and medieval roots, but in more recent times have developed fresh purpose. They were used to hide and protect Jewish citizens during World War Two. It also allowed those in the French resistance to hold secret meetings, preventing the German army from taking over the city altogether.
While it's possible to find and explore some of the public traboules on your own, you can also take part in a guided tour to fully embrace the network of hideaways.
You may be shocked at how different they all are; some reflect the shadowy historic nature of their origins, while others feature balconies that are decorated with vibrant blooms.
Musee Du Cinema Et De La Miniature

Movie fans owe it to themselves to experience the fantastic exhibits at theMusee Du Cinema Et De La Miniature.
This museum brings the world of film to life, with hundreds of authentic props and treasures from a plethora of popular movies. Discover the original costumes from Spiderman and Forrest Gump, see the triceratops from Jurassic Park and be spooked by the scary killer doll known as 'Chucky'. There's an abundance of prosthetics, animatronics, masks and more if you are fascinated by effects and make-up, meanwhile.
While this may be a single museum, there are actually two sides to it that are sure to intrigue any visitor. As well as cinematic props and costumes, there is a whole other world to discover within this museum – albeit one on a far smaller scale.
You'll find over a hundred tiny miniature scenes here too, all of which are incredibly realistic – and will make you feel like a giant as you peruse them. Look out for an authentic-looking restaurant, barber and a traditional fruit and vegetable shop, as well as a theatre and history museum.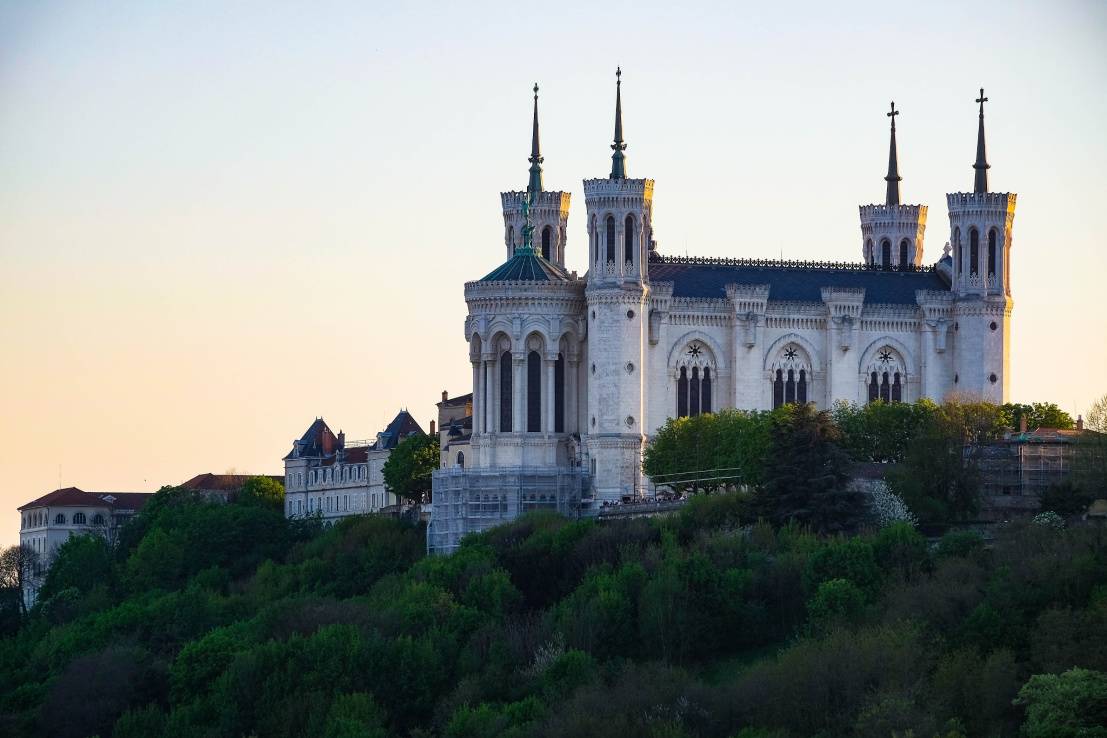 Basilica of Notre-Dame de Fourvière
With verdant surroundings contrasting a pale white façade and tall, looming towers, the 19th century Basilica of Notre-Dame deFourvière is anunmissable wonder of man-made architecture.
This grand church combines both Romanesque and Byzantine styles with an incredibly luxuriant interior. Featuring ornate gold detail, mosaics and stained glass, the Basilica of Notre-Dame de Fourvière is incredibly grand when you venture inside. Tall white stone pillars hold captivating sculptures, with beautifully adorned details framing their feet.
The basilica sits on top of a hill, offering breath-taking views and lush greenery. An unmissable jewel of Lyon, it's visible from pretty much every corner of the city, and the church often lights up at night, transforming into an illuminated beacon for all to see.
Les Halles de Lyon Paul Bocuse
Those looking to sample the many culinary delights Lyon has to offer should head to Les Halles de Lyon Paul Bocuse. Upscale yet youthfully dynamic, this vibrant market brings together visitors and the local community alike with its many delicious offerings.
You'll find a myriad of stalls hosting some of the most delicious food you'll ever sample, including traditional cheese, desserts, bread and a variety of French staples. Named after the famous citizen chef, Paul Bocuse, this market sells only the most exquisite food in the city. There are dozens of restaurants and traders here, so you're bound to find something that suits your tastes.
Theatres Romains de Fourviere
Transport yourself far back into the past with a visit to the ancient Theatres Romains de Fourviere, just a short drive from the heart of Lyon.
Thought to have been built around 15 BC, this large Roman amphitheatre is surprisingly well preserved and a marvel to behold – with its steep stone steps carved into a sloping hill.
It offers space to immerse yourself in the deep heritage of the city, as well as Roman life in general. Wander the complex and imagine the atmosphere of ancient times, when thousands flocked to watch events and performances in the very place you are standing.
It is also possible to see cultural events here in the modern day. A much-loved live music festival comes to the venue each year.  
Parc de la Tête d'Or
When it's time to take a break from the vibrant city life, head to this spectacular park on the outskirts of the centre. Encompassing a vast lake, you can rent a paddleboat and soak up the sun during the warm summer months.
Alternatively, if boating isn't your style, perhaps you would prefer to explore on foot? Either way, you have a multitude of options within this sprawling space – which covers more than 1.1 million square metres.
There's an incredible 18-hole mini golf course and even a free zoo, so you'll find activity for all ages here. Of course, the abundance of natural beauty should be appreciated too. The botanic and rose gardens are extraordinarily pretty, radiating a sweet scent that is sure to entice.
This city offers an extraordinary number of beauty spots and culture-filled attractions. Whether you follow our guide to the letter or use it as a starting point for your own exploration, make sure you experience the best things to do in Lyon.
Renting a car in the city is also a great way to get around, taking you to the local sights and neighbourhoods – and the wonders of the wider region beyond.