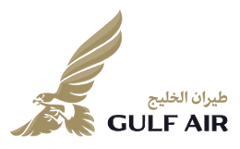 Gulf Air is the flag carrier of the Kingdom of Bahrain and operates services to 32 destinations across Africa, Asia and Europe. In partnership with Gulf Air, Frequent Flyer members receive discounts and collect miles every time you rent a car from Hertz.
Benefits
Earn 500 miles per rental using standard rates
Earn 250 miles per rental using Corporate rates
>Gulf Air Frequent Flyers can earn up to 10% off worldwide
Free membership to Hertz Gold Plus Rewards
How to Book
Log into your Hertz Gold Plus Rewards account online. (Not a member? Enroll here)
Enter your Frequent Flyer membership number at the end of the booking process
Show your Frequent Flyer membership card on collection of your vehicle

Customers in Bahrain can also call Hertz on (+973) 6500 9560 or contact your local Hertz office.